Ocean & River Cruises 2023/24. Departures From Uk Ports & Airports. Last Minute Offers & Availability.
---
Luxury ocean cruises offer a premium travel experience on board a cruise ship that typically includes high-end amenities, personalized service, gourmet dining options, and luxurious accommodations. These cruises often sail to exotic and sought-after destinations, offering passengers the opportunity to explore multiple locations while enjoying the comfort and luxury of the ship.
Luxury ocean cruises may offer a range of activities and entertainment options on board, such as spa treatments, fitness classes, live music and theater performances, and educational lectures. They also typically feature a higher staff-to-guest ratio, ensuring that passengers receive personalized attention and service throughout their journey.
Many luxury ocean cruise lines offer a variety of shore excursions and activities at the ports of call, allowing passengers to explore the local culture, cuisine, and attractions. Some cruise lines also offer exclusive access to private islands and beaches, creating a truly unique and unforgettable experience.
Luxury ocean cruises are generally more expensive than traditional cruises, but the premium amenities, service, and overall experience make them a popular choice for discerning travelers seeking a high-end vacation experience.
Last Minute Ocean & River Cruise Offers 2023/2024.
As the year draws to a close, we at Art of Travel invite you to consider enriching your holiday season with one of our meticulously selected Christmas or New Year's cruises. Each offering has been chosen with the aim of providing you an unparalleled blend of luxury, adventure, and festive spirit.

The allure of a holiday cruise extends beyond the mere change of scenery. It combines the fullness of all-inclusive board benefits with a myriad of activities suited to travellers of all ages. These offerings ensure that while you are taken to some of the world's most enthralling destinations—from the Canary Islands to the heart of the Caribbean—you will also find a wealth of entertainment and wellbeing options right on board.

Onboard entertainment offers a rich tapestry of experiences, from captivating evening shows to invigorating dance classes. The facilities extend into state-of-the-art gyms, sporting arenas, and pools, ensuring that your quest for holiday indulgence is balanced with opportunities for physical wellbeing.

Whether you wish to explore Europe's most enchanting Christmas markets or ring in the New Year amidst the serenity of the Caribbean, we believe we have an offering that aligns perfectly with your holiday aspirations. Options range from the delightful P&O Azura Christmas Canary Islands Fly Cruise to the opulent New Year cruise aboard the MSC Yacht Club Euribia.

We invite you to reach out to us at your earliest convenience to explore these holiday cruise opportunities in greater detail.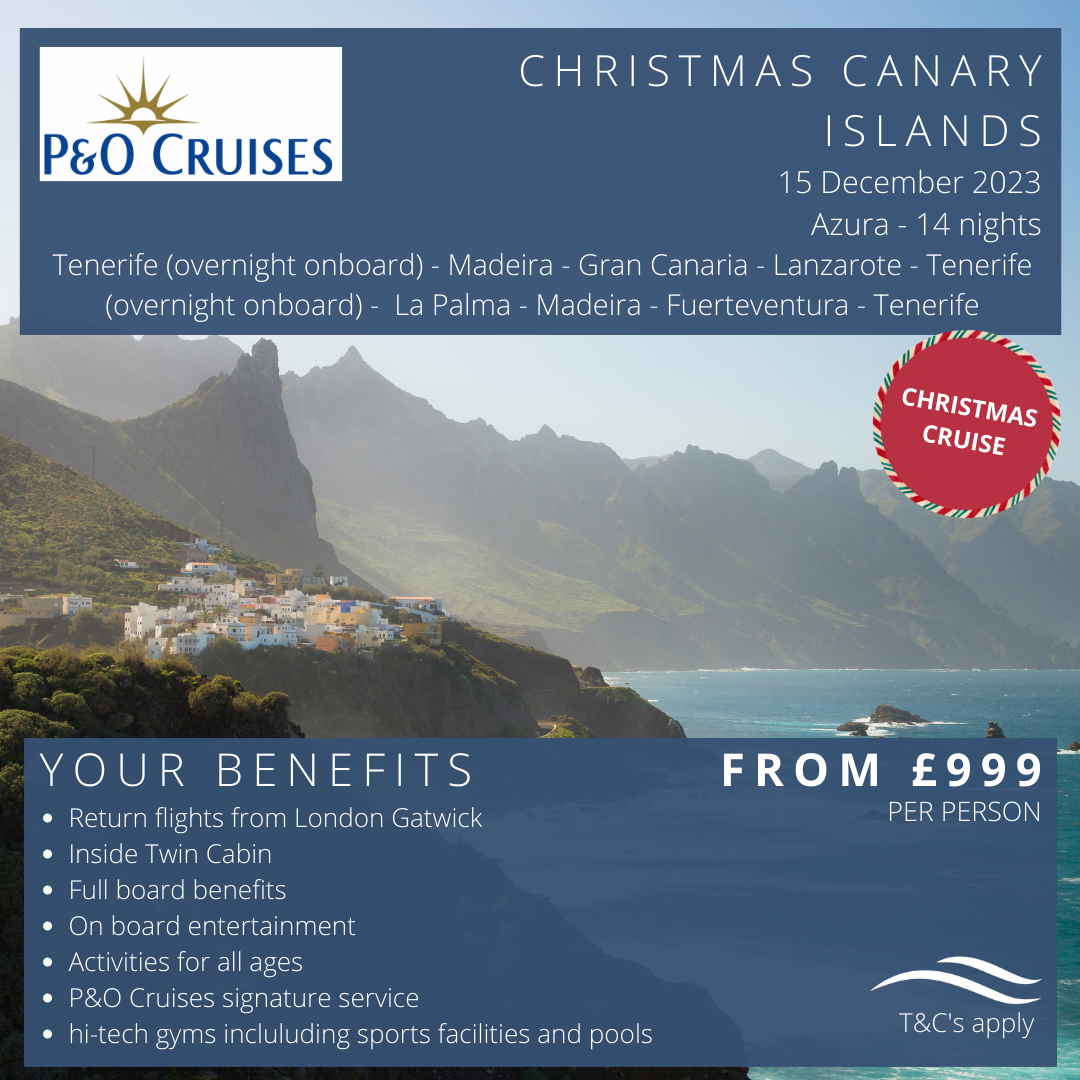 CALL 02920 880613 TO BOOK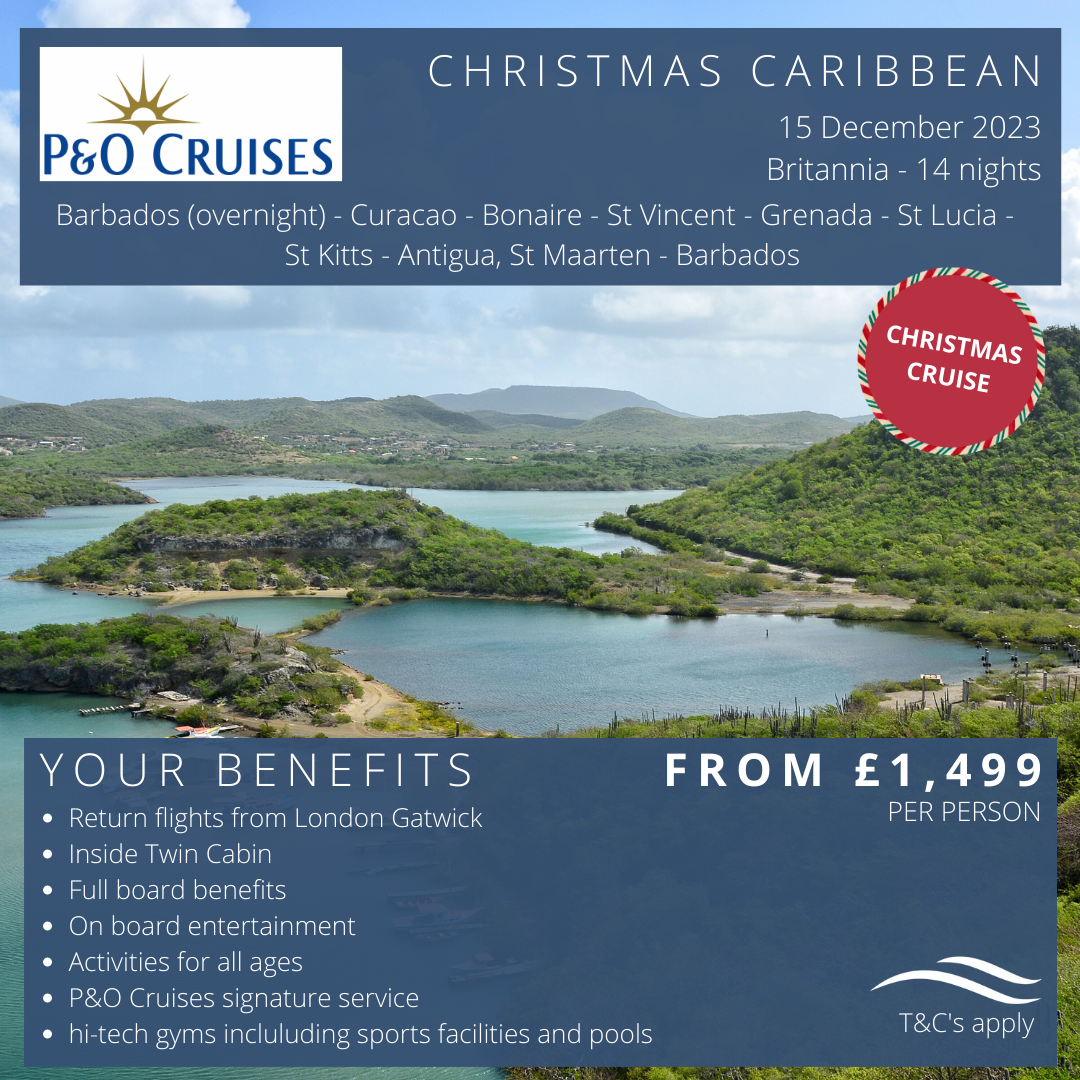 CALL 02920 880613 TO BOOK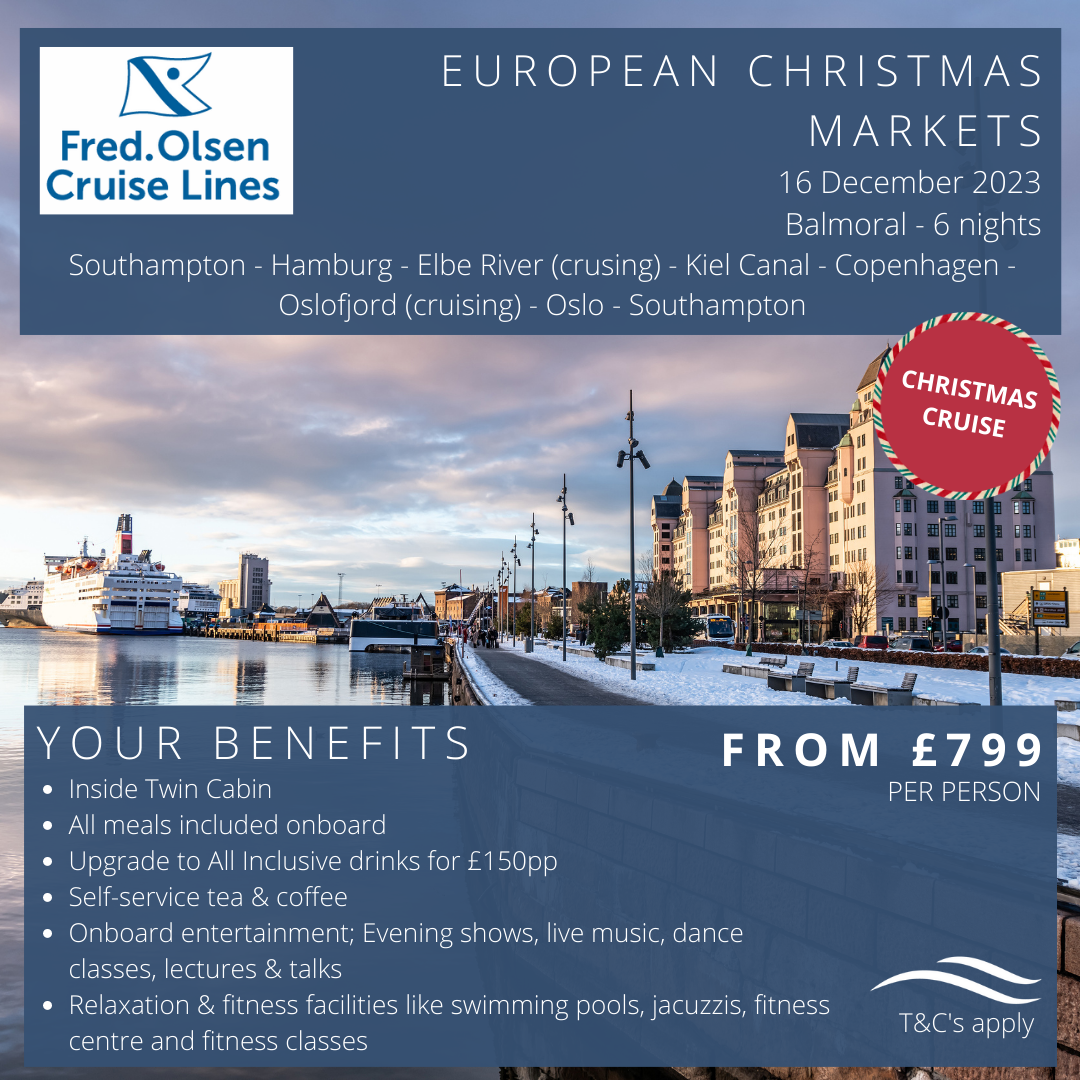 CALL 02920 880613 TO BOOK
CALL 02920 880613 TO BOOK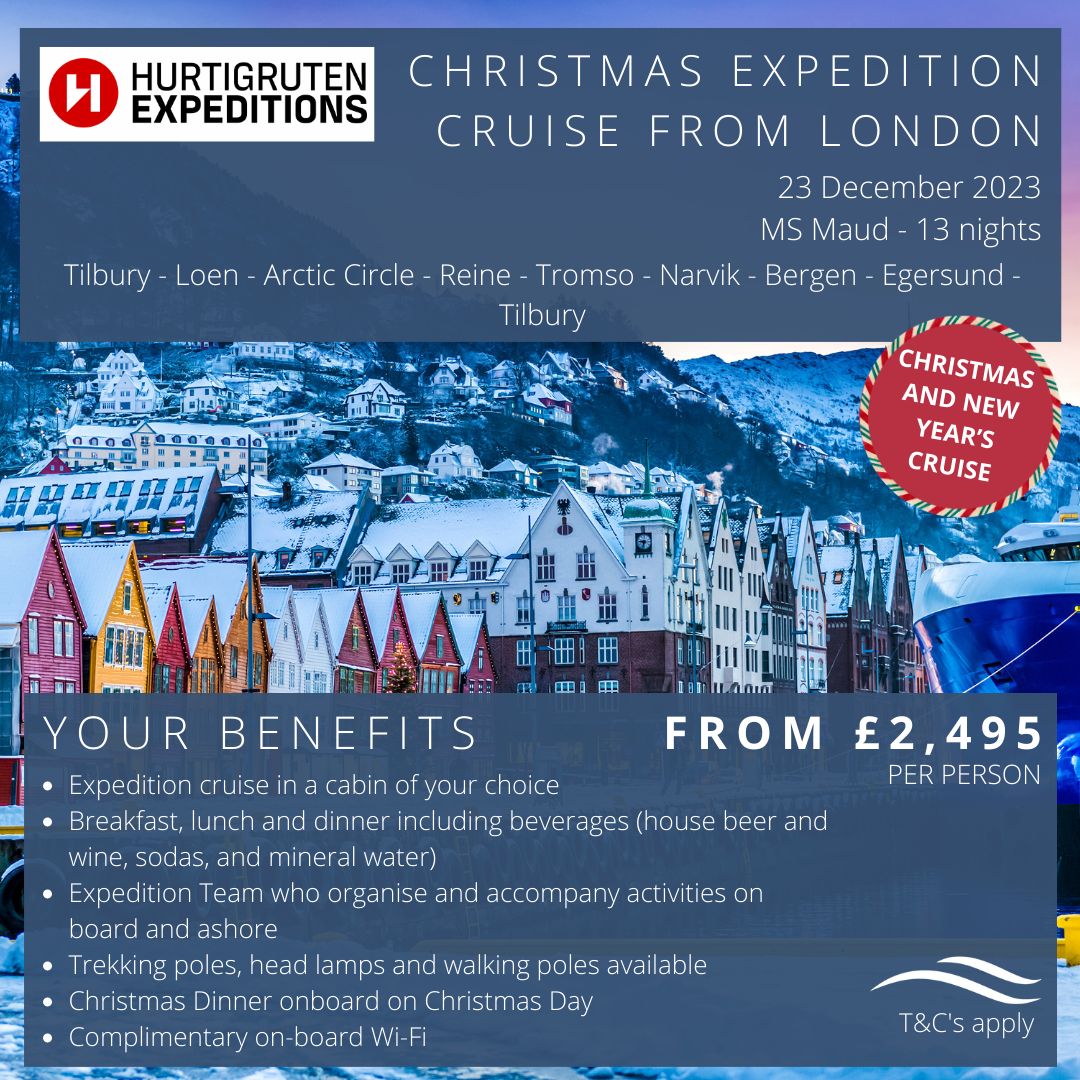 CALL 02920 880613 TO BOOK
CALL 02920 880613 TO BOOK
EXAMPLE CRUISE LINE INCENTIVES 2023/2024:
CABIN UPGRADES
FREE TRANSPORT TO YOUR PORT OF DEPARTURE
FREE DRINKS
NO SINGLE CABIN SUPPLEMENTS
BUSINESS CLASS FLIGHTS
FREE FLIGHTS
FREE TIPS
FREE EXCURSIONS
ONBOARD CREDIT
NO DEPOSIT OR LOW DEPOSIT AVAILABLE
One or more of these offers may or may not be available.